HURRTRAK ONLINE Tab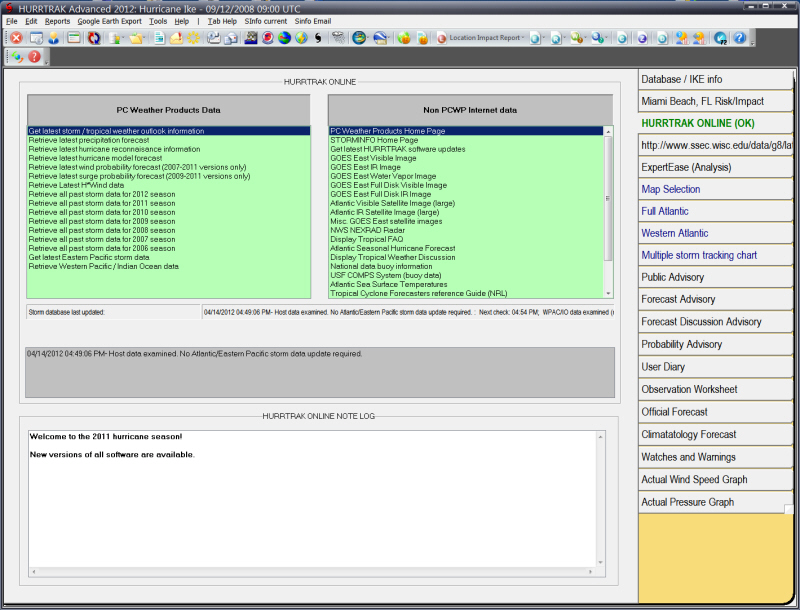 Description: This tab allows the user to manually retrieve information via the HURRTRAK ONLINE service. The user can select from a PCWP data list (Hurricane info) or a 'Non pcwp list" which contains links to Internet sites. This tab also indicates when the storm databases were last updated and when they are scheduled to be next updated.... as well as some other informational type data.
Tab Created by: Always present unless deselected via general options.
Tab Closed Allowed: No
Functions Available:
Menu/Toolbar:
Standard System Menu Functions
Get Latest Data - Retrieves the latest Atlantic Tropical
Other:
PCWP Data retrieve (dblclick left list) - Retrieves data from the PCWP Server
Non PCWP Data retrieve (dblclick right list) - Opens your browser and goes to Internet link
Retry configuration - If Internet link fails, this allows the user to manually force the system to retry to retrieve the Hurrtrak Online Configuration Data.
Toolbars: See Appendix Section for more information.
TIPS:
Be sure to setup your HURRTRAK online options.